Usage Examples
10 ways to convert your website visitors to subscribers
Newsletters are a great way to keep in touch with your customers and to keep them up-to-date on your latest promotions, products or services. Some might say that email is the number one channel for customer acquisition. However, not all customers will check your website for the newsletter signup on their own. That's where newsletter popups come in handy.
Newsletter popups are a great way to grab the attention of your customers and remind them to subscribe to your newsletter. They provide an easy way for your visitors to sign up for your mailing list and stay up-to-date on your latest offerings. By using a newsletter popup on your website, you can increase your subscriber base and keep your customers engaged with your brand.
If you're not currently using newsletter popups on your website, now is the time to start. They are the easiest way to boost your marketing efforts and improve customer engagement and website conversion rates.
Remember, no matter which type of popup newsletter you choose, make sure that it is mobile-friendly. More than half of all internet traffic now comes from mobile devices, so it is essential that your popup newsletter looks good on ALL devices.
Number 1: Percentage Discount
Consumers are more likely to subscribe to a newsletter if they know that they can get a discount for doing so. This is because discounts can save them money on the items they are planning on purchasing. The most common incentive is a percentage discount on their purchase, usually 5-15%. There are a lot of discount strategies that you can use, so make sure to be quick with also delivering the discount code. Either directly in the popup or in an email. Why not both? By offering a discount, businesses can encourage people to become subscribers and then potentially become customers.
Target audience: New or unidentified visitors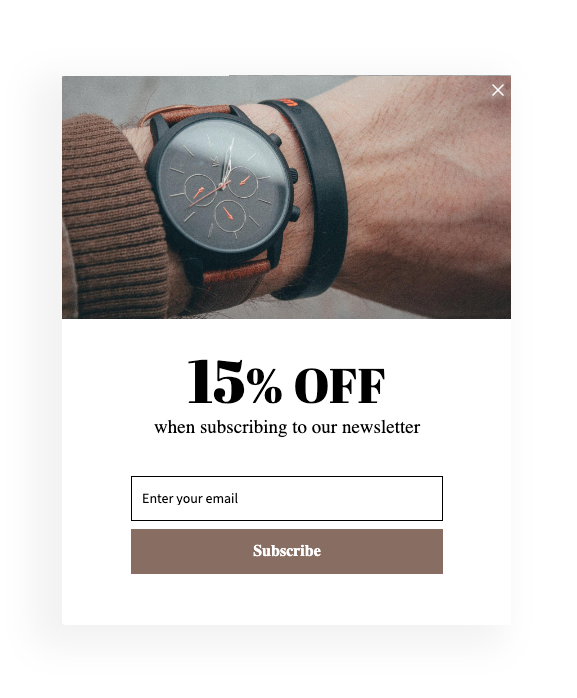 Number 2: Static Discounts
Some companies don't work with percentage discounts. If you are one of them, a good option is offering free delivery, a specific amount of discount (eg. 5€) or other static offers that don't vary depending on the total order value. This will keep the sense of urgency and encourage people to act quickly, without eating up your margins.
Target audience: New or unidentified visitors with a certain value in their cart
Number 3: Discount on category
Another option for discounts is narrowing down to a specific category or product instead of giving away a discount for their whole purchase. When targeted correctly, this will still have the visitors feel like they're getting a good deal, which can lead to them becoming more loyal customers and encourage people to return to your site in the future.
Target audience: New or unidentified visitors on specific URLs or with specific products in their carts.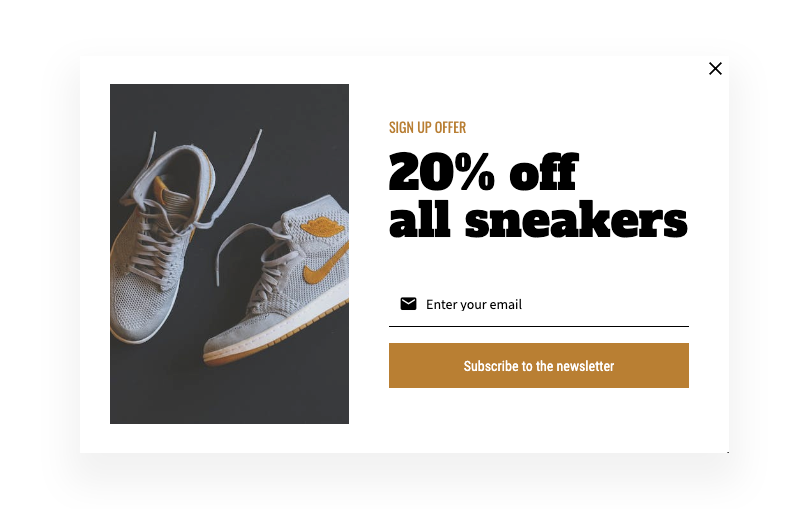 Number 4: FOMO (Time-limited offer)
FOMO, or the fear of missing out, is a powerful psychological tool that can be used to encourage visitors to convert. When customers feel like they might miss out on a great deal, they are more likely to take action in order to avoid missing out. This is a great approach for conversion, as it encourages customers to take advantage of your offer before it's too late. This approach can be achieved by adding a deadline component to your newsletter signup, or using copies such as "only 5 left".
Target audience: New or unidentified visitors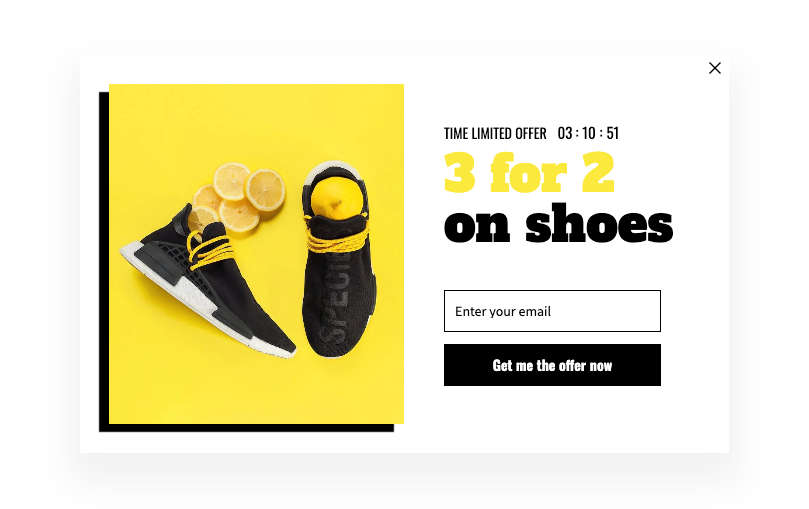 Number 5: FOMO (don't miss..)
Another way of creating FOMO is with the hint of the fact that the visitor will miss out on something if they do not sign up. When people feel like they might miss out on great content or opportunities, they are more likely to take action in order to avoid missing out. It could be the latest news, exclusive offers or new collections. And once they're subscribed, you can continue to market to them using your regular email content.
Target audience: New or unidentified visitors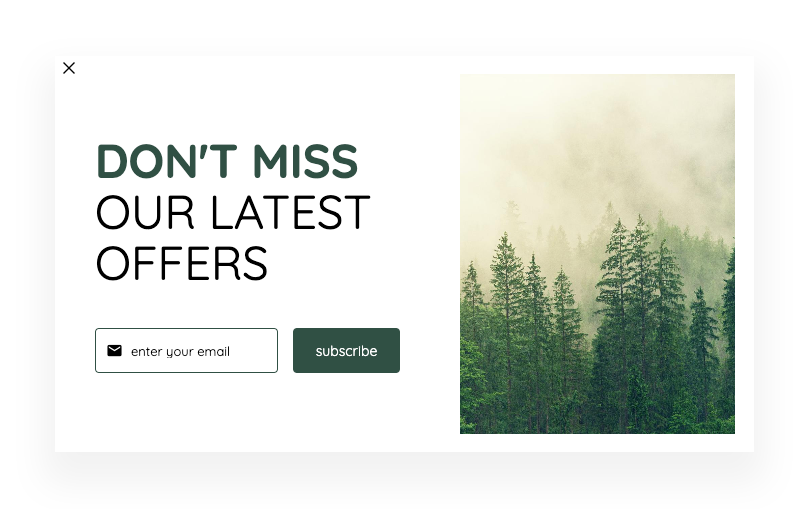 Number 6: Exclusiveness (join our club)
Who doesn't get curious when hearing about something exclusive? By limiting access to certain content or features on your site, you can encourage more visitors to sign up to the newsletter. This sense of exclusivity can create a feeling of urgency and encourage visitors to join the club and give you their email right away. Having an exclusive "club" also helps to build a stronger relationship with your customers and encourages them to return to your website in the future.
Target audience: New or unidentified visitors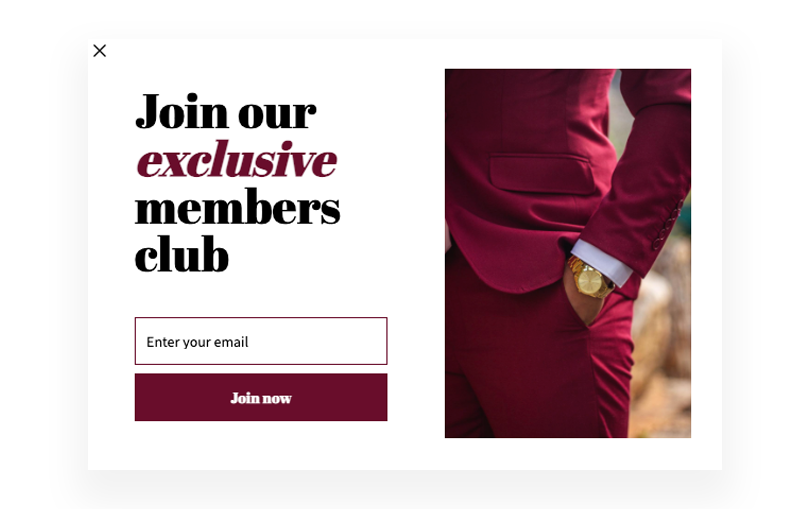 Number 7: Raffles
Contests and raffles are a great way to boost your newsletter conversion rate. If there's anything that everyone likes, it's the chance to win something. Raffles are fun and exciting for customers, and they offer valuable incentives that encourage people to sign up and buy products from your store. One of the best ways to use a contest or raffle is to give away a gift card, gift basket or a free product. So if you're looking for a way to increase your conversion rate, consider using a contest or raffle in your next newsletter campaign.
Target audience: New or unidentified visitors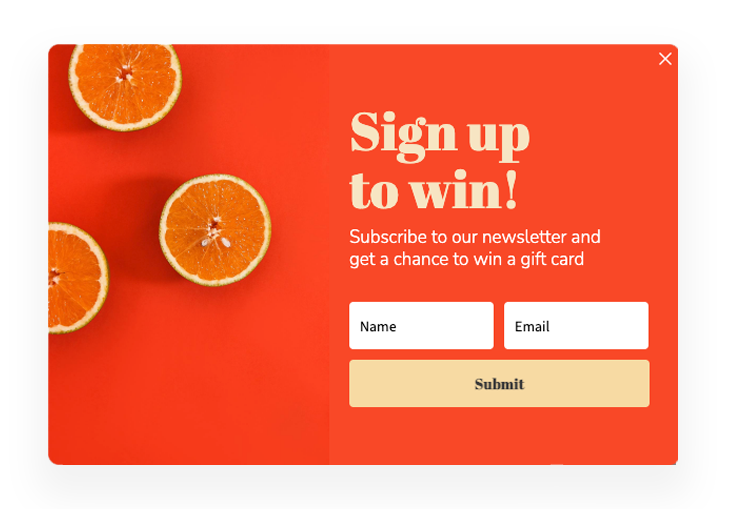 Number 8: Pre-signups for upcoming collections or sales
When it comes to website conversion, exclusiveness can be a very powerful tool. Take advantage of your upcoming collections by offering an exclusive priority shopping to those who sign up in time. This works especially well if the collection is a collaboration or exclusive in some way. As a result, online businesses can see a significant increase in website conversion rates with little effort.
PS. Add a deadline component to add some extra FOMO.
Target audience: New or unidentified visitors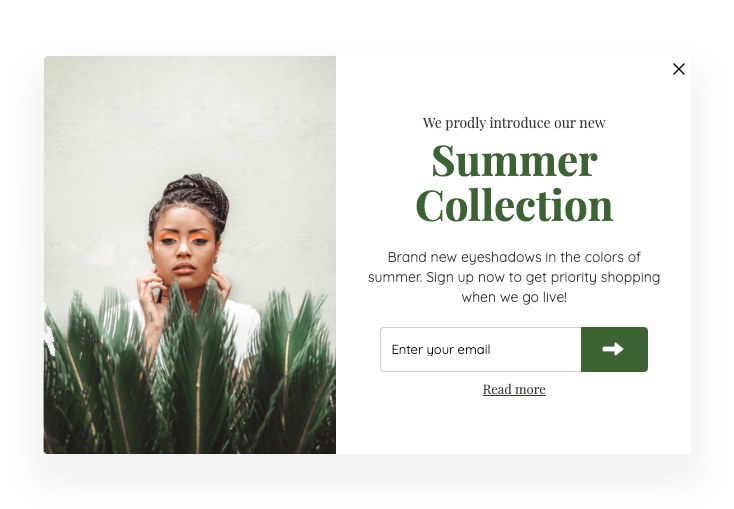 Number 9: Exit Intent
Popups that trigger when the visitor is about to leave are called Exit Intent popups. They can help you keep visitors on your website for longer periods of time and in the best of worlds, have them complete a purchase before they leave! With an exit intent popup, you'll at least get their email. Make sure you trigger the Exit Intent popup before the visitor has taken action and at the right time, otherwise they might feel intrusive.
Target audience: New or unidentified visitors that is leaving the website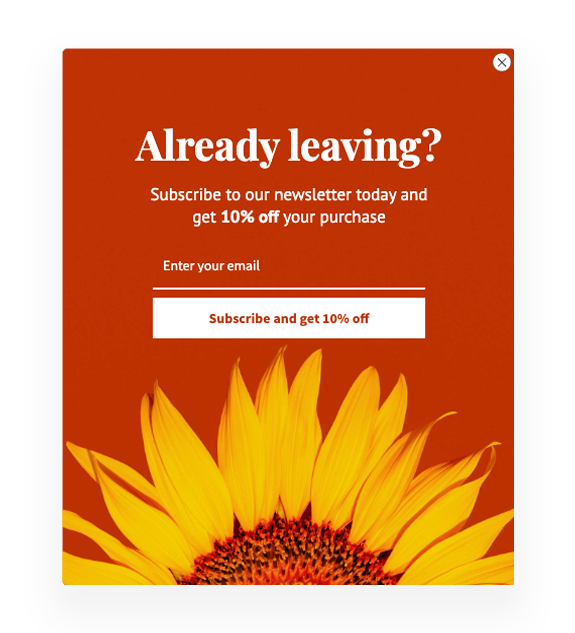 Number 10: Simple signup
Let's not forget the basic no-offer-at-all signup. While we strongly recommend you work with any of the above use cases, some of you might feel that you just want the old-fashioned simple signup. And that's totally fine! Make sure to design it with just as much effort and love as you would do for any other campaign. Remember, every interaction, in any channel, is a part of building your brand.
Target audience: New or unidentified visitors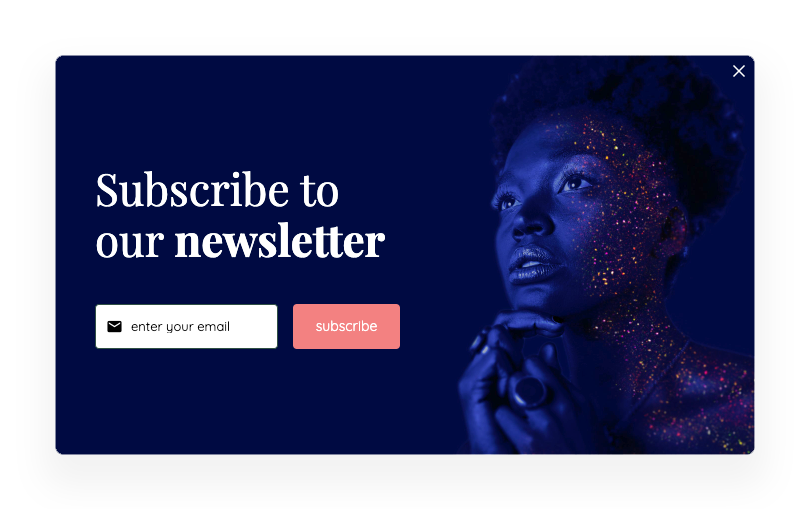 May the conversions be with you.